Simply Hand Made is a nonprofit gift shop with a simple purpose:  to promote the work of artists and craftspeople, preserve a historic landmark, and provide ongoing revenue for the Fredericksburg Community Library.
Simply Hand Made is located in the historic one-room jail building in Fredericksburg, built in 1916, lovingly restored.  Our goal is to develop relationships with artists and makers of all types, offering a place for their work to be sold alongside other unique items of high quality handicraft, from wooden bowls, pottery, handmade journals and  jewelry to notecards, original watercolors, baby gifts, and quilted items. Items change with the seasons, so there is something new with every visit.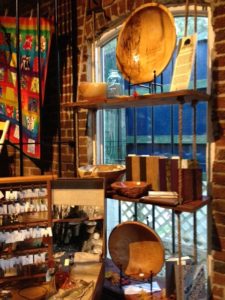 All profits from Simply Hand Made support the Fredericksburg Community Library, established in 1998 as an independent library, completely staffed by volunteers. Your purchase of gifts at Simply Hand Made will not only support the artist who made it, but also the ongoing work of the library and its programs for the community.
The next time you are in Fredericksburg, taking a bike ride on the trail, or driving through on your way to Amish Country, please stop in. We think you will be surprised and delighted by the treasures you will find at Simply Hand Made!
208 N. Mill St., Fredericksburg, OH. 330-695-2380
Open Thursday, Fridays, and Saturdays, 9 a.m.-4 p.m.
Find Simply Hand Made on Facebook, too, for updates!